Assert your identity online
Is your online identity killing your posture? Have you started to notice that some of your peers have a slick online presence that is not diluted by skype IDs and hotmail/MSN addresses?
Can you spot the difference?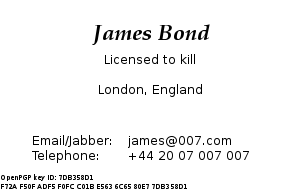 A single address for all electronic communication (email, chat+internet calling (XMPP))
A single brand: 007.com
There is even space for an OpenPGP key: using cryptography to protect the electronic identity of the person who made the card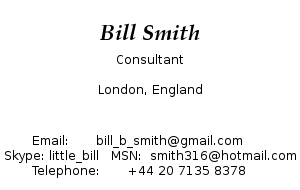 Three addresses make the card hard to read
The brands gmail.com, hotmail.com and skype.com are being promoted
You may form the impression that Bill is not very well-resourced, or that he has just started in business yesterday
Some people send email to the hotmail address instead of the gmail address, so he is always logging in to both accounts, and if he wants to search for some old email, he has to repeat the search in every mailbox. Frustration, higher chances of missing a message, time wasted.
Yet this type of business card is not uncommon - even amongst some IT professionals
Bill has no excuses - having your own online identity is nearly effortless
Get a domain (e.g. michaeljackson.com, google.com and greenpeace.org are domains you may already know)
Organise a server/web hosting package: look for an all-in-one package, it must support DNS hosting, email facilities and Jabber chat server. You will probably be offered many other services in the package (such as a web site or blog system), but DNS/email/jabber are the bare minimum.
Create your OpenPGP key - this step is free
Show it all off with new business cards or an email to your friends
In many cases, almost everything can be done by a single company.. You can find a shortlist of such companies here or by searching for `email jabber web hosting'.
What does it really cost?
Many internet companies now compete in the sub-$10 per month market, offering a combination of all these services for one domain and usually 10 or more associated email addresses - so if you set up a domain for a small business, or to share with your extended family, it really only costs about $1 per person per month.
Getting a domain name

There are many companies selling domain names.
Some are charging $US10/year, others charge $US500/year and yet they all do approximately the same thing
It is a good idea NOT to register the domain name through the company that provides your email and web site. Otherwise, if you have any dispute with them, or if their servers crash, it is much harder to move to another company.
Domains ending in a country code, such as .au or .ie, are known as country code top level domains (the abbreviation is ccTLD)
ICANN keeps the official list of registries for all the domains and ccTLDs - use that to find the web site where you register your domain.

Organise a server/web hosting package with email and Jabber facilities
Once you have a domain, there are many internet companies who will be happy to accept your email on their servers and keep it in a mailbox for you.
Details to look out for:
Select a service plan that is based on using your domain and not sharing the provider's domain.
Self-service web site to allow you to create email addresses inside your domain whenever you want, there should be no extra fees for the first 10 (or maybe up to 100) email addresses
Web access to email, if that is important for you
Must support Jabber (also referred to as XMPP) chat service using your own domain - not all companies offering web/email packages have proper chat facilities complying with the Jabber protocol.
A few words about Jabber
When you use Jabber, your identity can be the same as your regular email address. This is the superior solution for just about every purpose.
Jabber systems talk to each other: so if you have a friend using Google Talk, they will be able to chat to your Jabber address effortlessly. This is essential for business users who want to `chat' using their professional identity.
Beware of companies that try to offer you access to a closed chat network like MSN as it is a poor substitute for Jabber and extra charges may be involved.
Create your OpenPGP key
Before you print your next batch of business cards, it is a good idea to set up an OpenPGP key. OpenPGP is the most widely accepted peer-to-peer solution for protecting your online identity.
A simple way to get started with OpenPGP is to install the EnigMail plugin for ThunderBird. It will guide you through the details.